Dry Needling Institute 20 Hour Certified Training Course [March 24, 2023 12:00 PM - March 26, 2023 2:00 PM]
Dry Needling Institute 20 Hour Certified Training Course [March 24, 2023 12:00 PM - March 26, 2023 2:00 PM]
Friday, March 24, 2023 12:00 AM - Sunday, March 26, 2023 2:00 AM (EDT)
Description
CALL TO REGISTER – 301-444-4890




Dry Needling Institute 20 Hour Certified Training Course: Maryland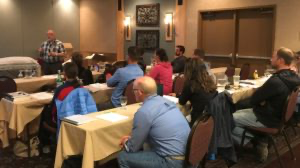 March 24-26, 2023
Each 3-day weekend session
provides full certification
Friday 12:00PM – 6:00PM
Saturday 8:00AM–6:00PM
Sunday 8:00AM–2:00PM
Dry Needling Institute's 20 hour certified training course results in immediate clinical applicability. Its purpose is to prepare health care professionals to utilize dry needling as a diagnostic and treatment modality.
This course is meant for practitioners who who want to:
Achieve improved clinical outcomes in treating soft tissue issues throughout the body.
Complement your other treatment protocols with an evidenced based approach.
Raise your practice profile.
Generate additional internal and external referrals.
Decrease the stress on

your

body!
Add a new modality that requires minimal capital to implement.
Training Course Fee
$1925 All Attendees
PLEASE NOTE: 80% of the course fee is refundable if notice of cancellation is received by DNI up to 30 days before the course begins. Fees are nonrefundable within the last 30 days before the course.
Course Objectives
Upon completion of this training the learner will:
Understand the various theories and models that underlie dry needling technique.
Know all safety and indication/contraindication parameters for needling services.
Learn and demonstrate all dry needling procedures in all body areas to the instructor.
Apply dry needling technique to various case scenarios to demonstrate integration of the three previous elements.
Upon achieving these objectives the learner will be certified to deliver dry needling services safely and effectively to the public.
Value-Added
You receive a comprehensive 20 hour, three-day certified course.
20 credits approved by P.A.C.E. through the University of Western States and other state approving organizations.
Class size is limited to ensure clinical competency and confidence.
Participants receive a coursebook, educational materials, and a start-up supply of needles.
Continental breakfast provided on all days, and healthy refreshments throughout.
Free parking.
Eligibility Requirements



Open to all licensed health care practitioners whose scope of practice permits the use of a needle.




All participants must sign consent forms permitting the other participants to practice and perform dry needling on them and permitting the instructor to demonstrate dry needling on them.




All participants must provide proof of adequate malpractice insurance.

All participants must be prepared to dress down to shorts and be gowned when appropriate.
Course Overview

Current research, clinical trials, case studies, and 32 years of clinical experience all attest to the power of this evidence-based approach to treating soft tissue dysfunction.
With this powerful clinical tool, you can expand your scope of practice and contribute to the good of the public health by lessening the suffering of your patients, more efficiently and with improved results.
Participants will learn how dry needling theory is based on the same anatomic, neurologic and biomechanical principles they already use in their day-to-day practice. Participants will also learn how to apply their kinesthetic training and other skills to a technique that is increasingly recognized to be effective for diagnosing the source of myofascial pain syndromes, and for treating both acute and chronic pain.
Participants will learn how to perform dry needling using fine, thin, solid filament needles and they will practice what they learn on each other, in the workshop, under the direction of the instructor. Finally, participants will leave the workshop with a start-up supply of needles that they can use in their offices with their own patients.
The Dry Needling Institute
50 W Edmonston Dr Ste 602



Rockville

,

MD

20852-1216

United States



Friday, March 24, 2023 12:00 AM - Sunday, March 26, 2023 2:00 AM (EDT)